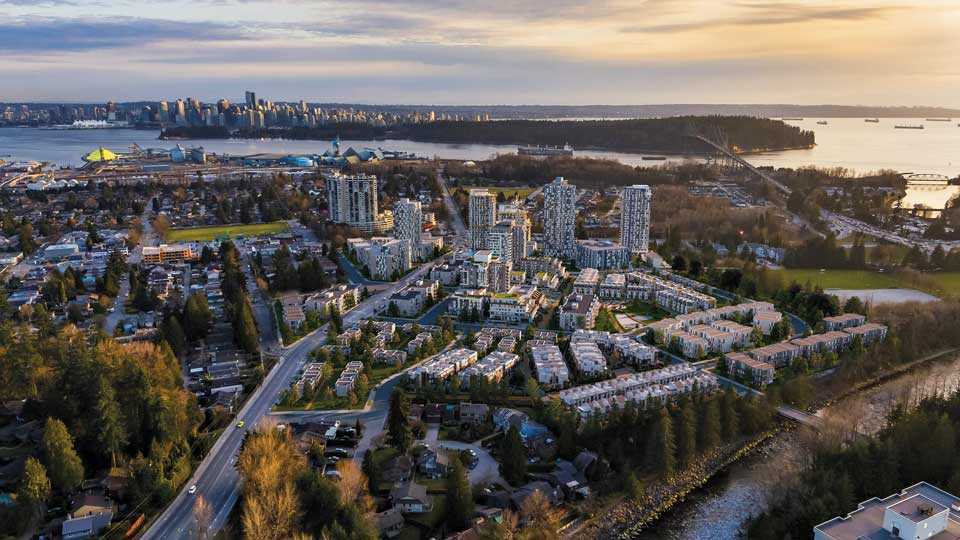 North Vancouver is known for three main things: the mountains, the ocean and the forests. It's a winning combination that draws people from all over who want to live in close proximity to everything this region has to offer. In the past, North Van was a sleepy, bedroom community of Vancouver, with a large population of families and seniors. But the last decade has brought rapid changes, and a huge influx of people wanting to call this spectacular place home. This brings great opportunities for developers, but also presents lots of challenges to the municipal government, who needs to balance growth with protections for the environment and a long-term future.
The District of North Vancouver
addressed these challenges with a comprehensive Official Community Plan. Developed through a two-year-long community engagement initiative called Identity DNV 2030, the district held over 75 open houses, public and stakeholder workshops, coffee shop talks, town hall meetings, and telephone, online, and event surveys. In all, over 5,000 people shared their ideas and vision for the future of the region. The plan establishes a network of connected town and village centres, and directs future growth and renewal to these centers. It also addresses new development permit areas, transportation, and parks and open space strategies.
Each town and village centre supports effective transit, walking, and cycling, promotes healthier living and social interaction, and protects North Vancouver's surrounding green space. Key objectives for these centres include: creating a vibrant mixed use neighbourhood that serves as a focal point for the community, the accommodation of a diverse mix of housing; creation of engaging and interconnected public spaces; reduction of vehicle trips by improving pedestrian, bicycle, and transit conditions; resulting in a more sustainable, energy- and resource-efficient neighbourhood that supports local employment opportunities and provides enhanced amenities to meet community needs.
The five centres are:
Edgemont Village
, a distinctive commercial precinct serving the Upper Capilano neighbourhoods of North Vancouver;
Lions Gate Village
, which serves as a gateway into the District of North Vancouver, due to its unique location at the edge of the boundary, near Lions Gate Bridge;
Lynn Creek Town Centre
, located near the water by the Iron Workers' Memorial Bridge;
Lynn Valley Town Centre
in the heart of the established Lynn Valley community; and the
Maplewood Village Centre
by the water on the west side of the Iron Workers' Memorial Bridge.
There are many great new home options in North Vancouver! Here are just a few to check out:
Edgemont Village
Edgemont Village is located on a sunny, flat bench, nestled into the base of the mountains in scenic North Vancouver.
Crescentview at Edgemont
is a unique opportunity to reside in this world class location, with the very best of the North Shore at your doorstep.
Lions Gate Village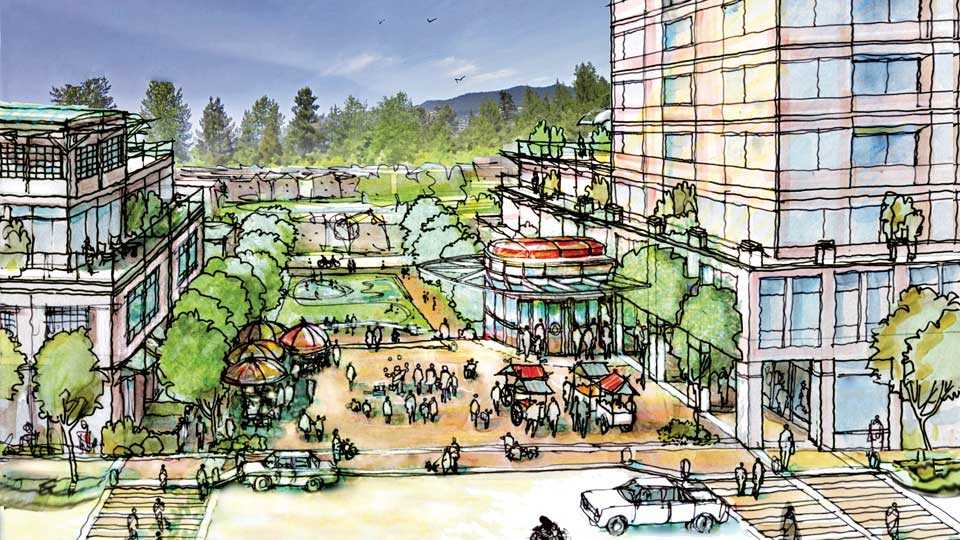 Located beside the beautiful Capilano River. This ideal location between Lions Gate Bridge and Lonsdale provides convenient access to Park Royal, Ambleside Park, Edgemont Village, the North Shore's most beloved parks and natural areas, and Downtown Vancouver.
This vibrant
new neighbourhood
will bring new retail shops, cafés, a community centre, park space, and a planned daycare centre, all in the near future. A perfect place to call home.
Lynn Creek Town Centre
Lynn Creek has been designated as one of the District of North Vancouver's newest official town centres – the community is undergoing a grand and ambitious transformation. At its heart is the
Town Centre
– a vibrant street where neighbours will come to shop, eat, gather, and enjoy the community space.
Lynn Valley Town Centre
Lynn Valley Town Centre is a well-designed pedestrian, biking, and transit-oriented mixed use centre in the heart of Lynn Valley that celebrates its natural and cultural setting and strong sense of community. Building on the existing strong commercial core and civic uses, the municipality is creating a more vibrant and complete community through a mix of new residential, commercial, and employment uses, park and community space, and green building design and infrastructure.
Maplewood Village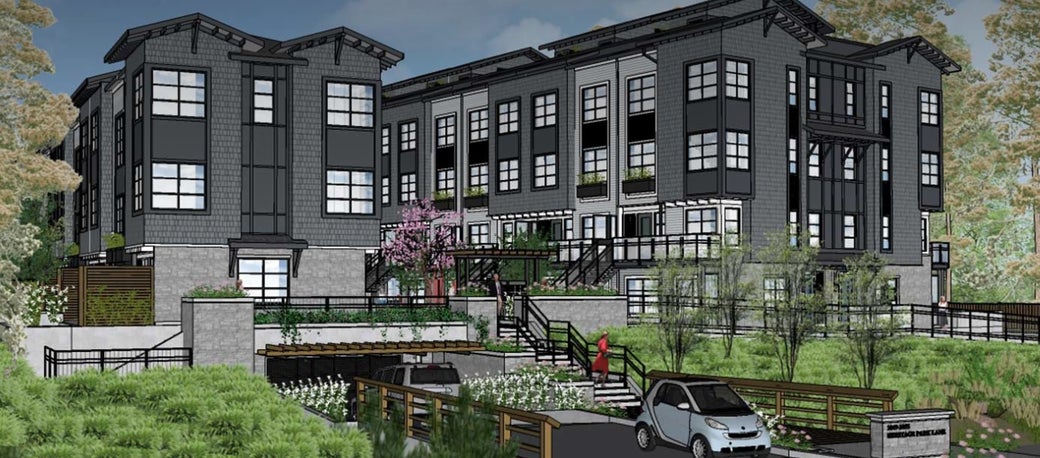 Maplewood West is a collection of 39 townhomes and ground level suites neighbouring Anthem's Maplewood Place community to its east and Seymour River Heritage Park to its west. Maplewood West is nestled by the North Shore mountains and steps away from the bustling Maplewood Village Centre. Comprised of two to four bedroom homes, ranging from 925 – 1,593 sf,
Maplewood West
is designed for modern families that want to be connected to nature and the local community.
Hot properties for a pre-sale in 2021
Parkside at Lynn
Home type: Low-rise condominiums
Developer: Mosaic
On the map: North Vancouver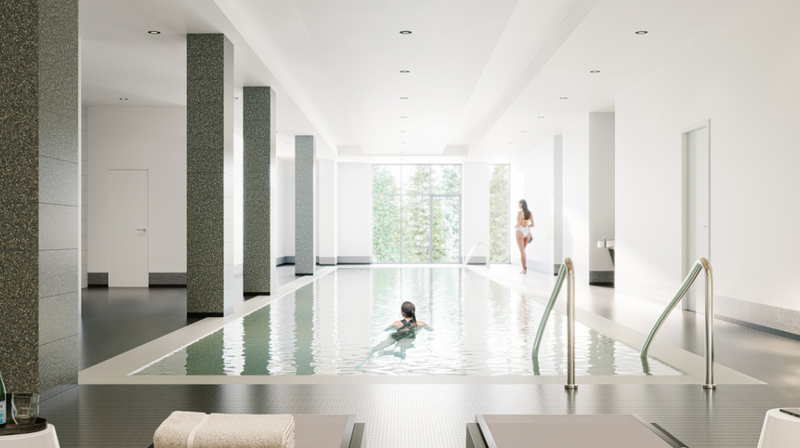 Info: Lynn is the newest master planned community coming to North Vancouver's Lynn Valley Town Centre neighborhood.
Parkside at Lynn
, located at 1200 Emery Place, is bringing 220 concrete homes, including one-, two- and three-bedroom apartments ranging from 550 square feet to over 1,600 square feet. At Lynn, Mosaic is providing a range of home options designed to meet the diverse needs of the community including those renting, those buying their first home, those requiring a home with more space and those who are looking to simplify their housing while remaining on the North Shore. The Lynn Home Store at 2517 Mountain Highway, will be open for preview appointments starting in January 2021.
WEST THIRD
Home type: Condominiums and townhomes
Developer: Anthem
On the map: North Vancouver
Info: A collection of 57 luxury homes in the coveted and well-established Lower Lonsdale neighbourhood of North Vancouver. Offering two- to three bedroom and den homes within a five-storey mixed-use concrete.
If you are looking to buy in a current seller's market make sure you deal with a
knowledgeable Realtor
to build a strategy and follow it to get what you want.
Sources: